Let's here a fashion cheer, Winter is here! As the temperatures drop, we are adding on the layers and transitioning the closet from Fall to Winter. Of course, we love all the trends of this holiday season, but we have picked out five of our favorite Winter pieces to carry your style through the season right into Spring!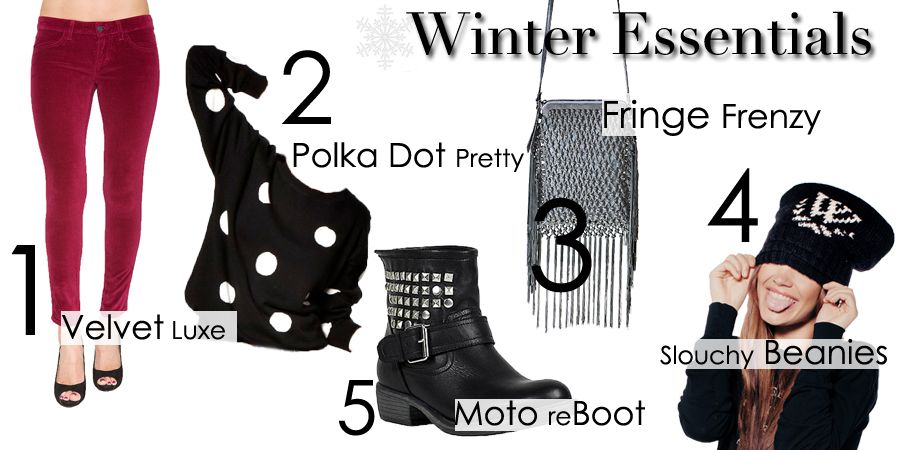 1. Velvet Luxe - As if we couldn't wear a skinny another way, we can now wear our denim in the luxe velvet! Rich and warm, the velvet skinnies are perfect to wear all Winter long. Dressy enough for the holiday parties, pair with your best blouse and add a little texture to your look.
2. Polka Dot Pretty - Spot on. Move over stripes, polka dots are making a come back. Classic with a hint of nostalgia, this print adds some fun sophistication to any look. Don the dots as a knit and make an effortless statement while accentuating your best features.
3. Fringe Frenzy - For the love of all things fringe! No piece is exempt this season when it comes to adding a little fringe. A must for the carefree boho chic look, the fringe bag shows off your inner sass - plus it adds that downtown vibe for the working girl on-the-go.
4. Slouchy Beanies - Making its way from the slopes to the runway, the slouchy beanie gives your Winter look some playful edge. A cozy accessory to adorn the crown, pair this baby with your leather moto or dress it down and lounge.
5. Moto reBoot - Moto, moto, moto! The season for moto, especially when it comes to your boot. Part rebel, mostly cute, the moto boot can be worn any which way this season and forward. Pair with your dresses or tuck into your skinnies, this bootie is biker glam done right.
xxoo
BTY