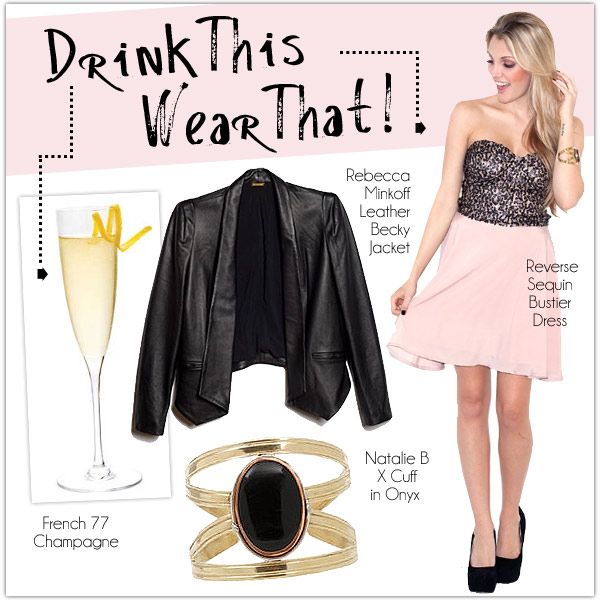 Reverse Sequin Bustier Dress // Rebecca Minkoff Leather Becky Jacket // Natalie B X Cuff in Onyx // French 77 Champagne
Sparkle and shine! 'Tis the season to dress to the nines! We are making our grandiose entrance into the holiday parties this weekend as chic as can be. Dress season is here, and we are ready to bring out all the glitz and glam and celebrate in the best BTY pieces that we have.
When searching for the perfect party dress this season, one thing keeps running across our mind…sequins, sequins, sequins! May our stairway to heaven be paved in sequins, we are obsessed with the irresistible sparkle. The Reverse Sequin Bustier Dress is the perfect fix for a sequin craving. With just a touch of pink and a circle skirt made for dancing, this mini has got all you need for a evening look. To balance off our ultra girly dress, the Rebecca Minkoff Leather Becky Jacket adds that edgy vibe any style sophisticate looks for. True leather in a blazer fit, this jacket is one you'll never want to take off - a Minkoff must! Cuff it simple - the Natalie B X Cuff in Onyx is the perfect stone to our sparkly ensemble. Statement making with a touch of boho flair, this cuff is subtle and bold all in one. 
To finish off, any fashionista knows a glass of bubbly is one of the best accessories - French 77 Champagne - oh yes!


Follow our weekend fun this holiday season, head on over to @boutiquetoyou!
xxoo
BTY