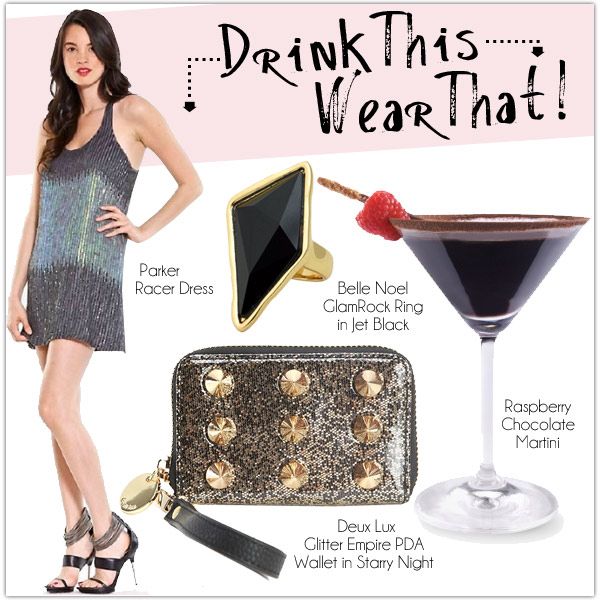 Parker Racer Dress // Belle Noel GlamRock Ring // Deux Lux Glitter Empire PDA Wallet // Raspberry Chocolate Martini
Oh weekend, we are so glad you came. Glam time is here. Polish your best heels, shine those sequins and mix up that cocktail, it is BTY weekend time! Sequins are the must this season. From the runway to the realway, we just love these sparkly little gems. Tonight we are dressing up our look to make a statement, create those double-takes, and make our way into the holiday parties!
Sequins + Parker = fashion spark! We never knew we were so good at math. The Parker Racer Dress is an absolutely exquisite party mini and a new twist on sequins. With the edgy look of the racer back tank dress and mix of iridescent sequins, the dress does subtle glam perfectly. Effortless and grandiose, we are pairing this little number with a leather moto and hitting the town. As this dress is such a stunner, we need an equally statement-making bauble to pair with it. Belle Noel GlamRock Ring, you made the cut! Large and in charge, this ring plays with the popular geometric trend and showcases an illuminating jet black stone. We love ourselves a little midnight mystery, and of course, Kim Kardashian is the designer! Most importantly, for an evening look, a true fashionista needs a clutch big enough to handle her style and small enough to fit on her wrist. The Deux Lux Glitter Empire PDA Wallet in Starry Night is the key to an efficient night out. This little wristlet is roomy enough for all your party necessities and has the glam to keep up with any diva. Zipper closure and wrist strap, check!
To finish off our luxe look, we are going with an equally extravagant cocktail - Raspberry Chocolate Martini. We will burn off the cals while dancing.
xxoo
BTY