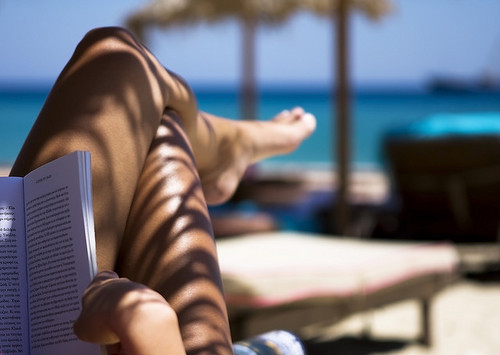 Nothing says summer more than a good read. Whether you're laying in the sand, by a pool, or simply in your back yard, a good book makes your day that much better. If you're a classics girl or chick lit fan, we've got you covered. All that's left is for you to decide where to crack open these books.
Not Ashamed to Be Seen With - Revenge Wears Prada, Lauren Weisberger
Do we even need to remind you how amazing The Devil Wears Prada is? Next.
Because You Read the News - Fahrenheit 451, Ray Bradbury
Before Edward Snowden, there was Ray Bradbury's classic about an all knowing, all seeing state. Pick up this quick read if you want to impress your friends with an analogy or two.
You Read Gone Girl, Now What - The Dinner, Herman Koch
One dinner, a horrible secret, and family drama. If this sounds like your Thanksgiving, we can promise you it is anything but. Two 15 year old boys commit a terrible act that sets off a police investigation that their well to do families want nothing to do with.

For the Hopeless Romantic - Beautiful Ruins, Jess Walter
The Italian coast sets the scene for this love story. Flash forward fifty years and a romance is rekindled in Hollywood. We're already in love with this novel.

Too Good to Be True, But Is - The Glass Castle, Jeannette Walls
In this memoir, Jeannette Walls tells the true story of her vagabond childhood with an alcoholic father and a mother who would rather paint than purchase food for her family. From West Virginia to Phoenix, and everywhere in between, she tells her story with nothing but love for her parents. Now a successful author in NYC, Jeannette hid her upbringing until the publication of this book.